WES Analyst Features/Benefits - Web Enterprise Suite
WES Analyst - Features
Some of the features provided by WES Analyst are as follows:
Advanced Web Mapping.
Supporting OGC and Other Standards.
Web mapping environment that supports OGC standards such as Context, WMS, WMTS, WFS, WCS, WPS, GeoPackage, SLD, SensorThings API and GML.
​​​​
​​​​​​​WES Analyst also supports direct integration with ArcGIS databases and other commonly used Web mapping interfaces available via commercial and open source interfaces.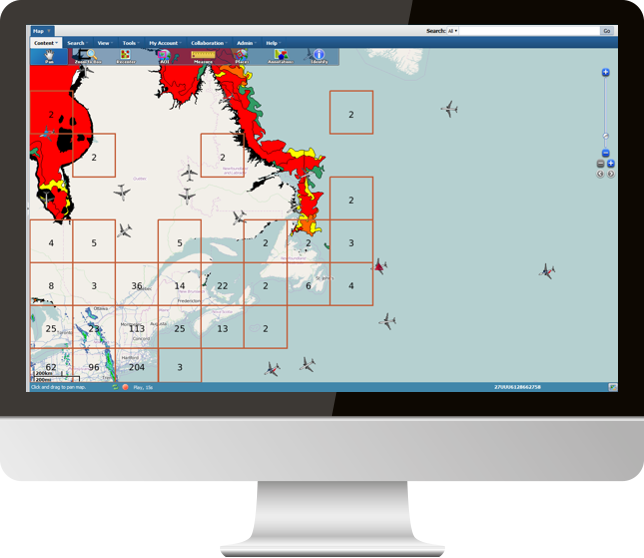 ---
Web Mapping Functions.
Zoom, Pan, Search and More.
The Web Mapping Client also supports all common Web Mapping functions such as Zoom, Pan, History, Print, Gazetteer, display of units, selection of units, Overview, Layer Management and many more.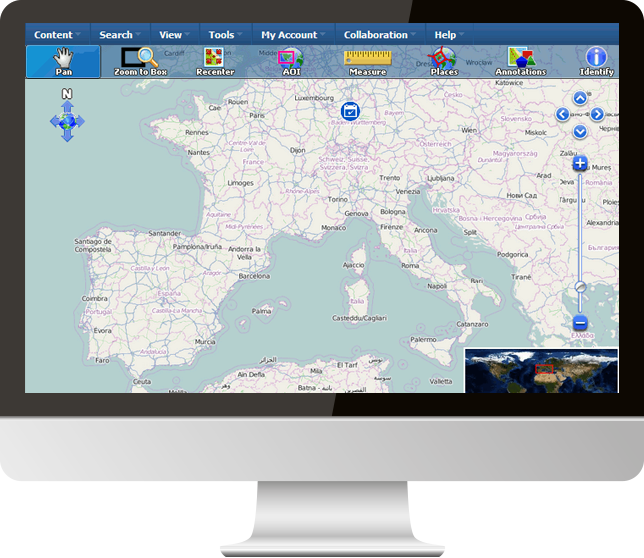 ---
Integration of Content.
For Advanced and Novice Users.
Tightly integrated with other WES companion products and components, it provides a complete solution for situational awareness and decision support for advanced and novice users.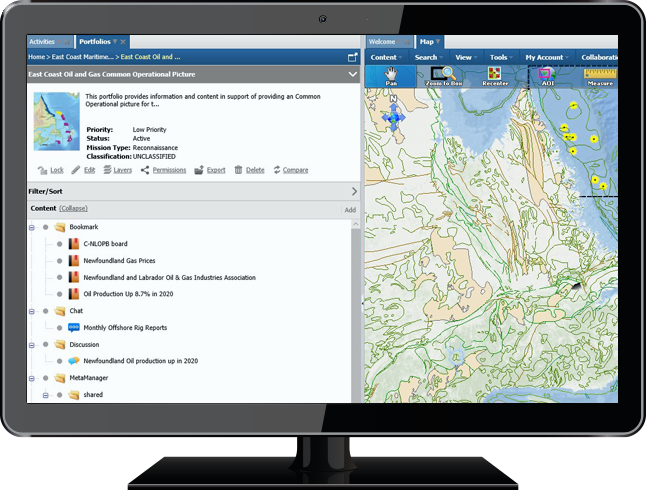 ---
Access to Collaboration.
Monitor Activities and Tasks.
WES Analyst allows users to access all of the collaborative tools of Web Enterprise Suite, such as assigning and tracking tasks, creating discussions, creating wiki pages, creating calendar events and chatting in chat rooms.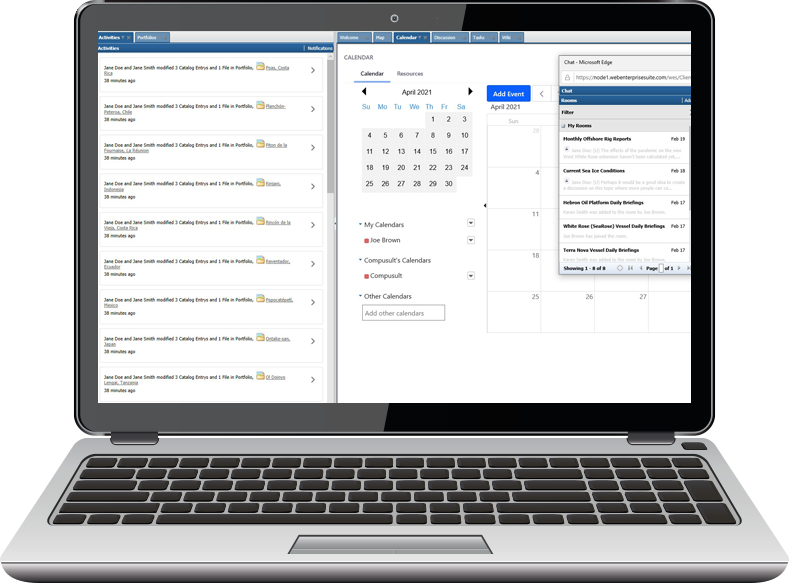 Feature/Sensor Tracking Services.

In Real-Time/Near Real-Time.
Contains a feature/sensor tracking service for display of movement of real-time objects and sensor locations including tracks (e.g., aircraft, ships and vehicles).
​​​​​​​
​​​​​​​Dynamic Web mapping updates occur and can be displayed in multiple monitors or windows.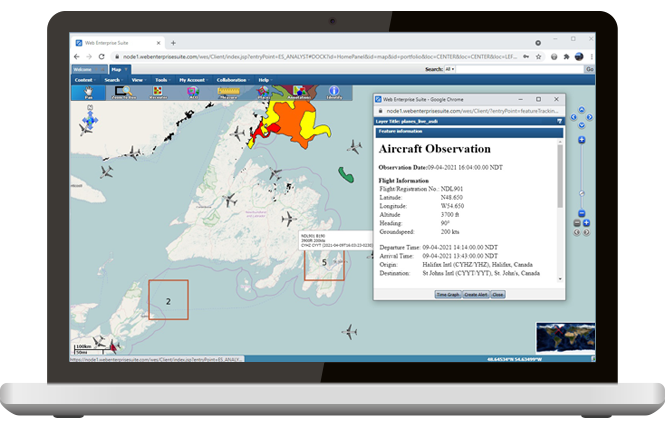 ---
IoT/Sensor Dashboards.
For Sensor Alert Services.
Integrated with WES SensorHub, WES Analyst provides directly linkage into sensor status dashboards and displays any alerts generated by the sensors/IoT devices.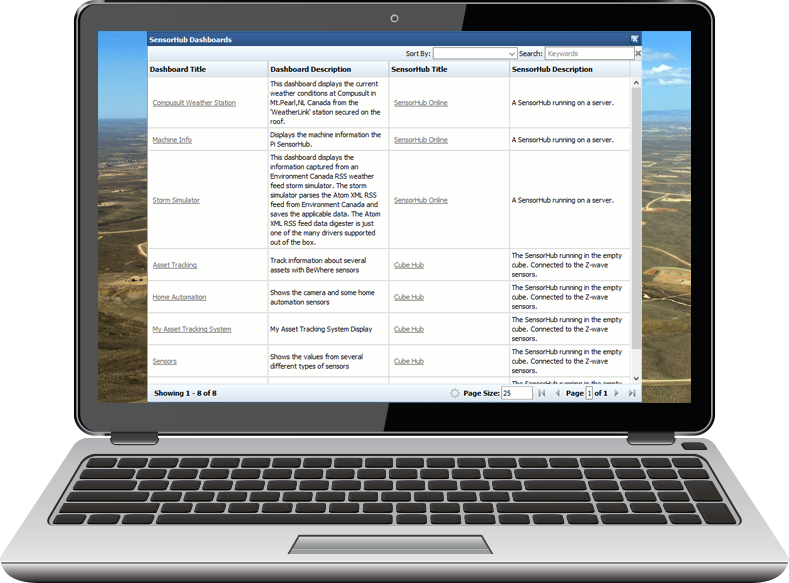 ---
WES Portfolio Integration.
For Situational Awareness.
Tightly integrated into WES Portfolio system for loading and displaying situational views in support of Common Operation Pictures (COP) and the decision-making process.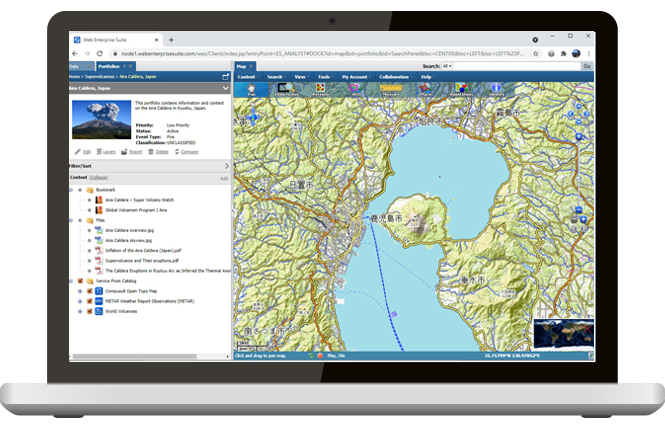 ---
Benefits
The main benefits of WES Analyst are:

Search and ​​​​​​​​​​​​Discovery
Easy to use and powerful search interface components that delivers seamless discovery and access of the information required.

Standards Compliance
Compliant with many OGC standards, international standards and industry standards to provide maximum compatibility.

Variety of Retrieval Methods
Retrieve near real-time or archival information and products. Display or export results in a variety of methods.

Situational Views Made Easy
Since WES Analyst is tightly integrated into WES Portfolio, situational views supporting missions and events for the decision making process is just a click away.

Easy Merging
Merge or layer sensor information with other mapping data from other OGC standards such as the Web Mapping Service (WMS).

Administration Made Easy
With the right permissions, easily administer, configure, monitor and maintain Web Enterprise Suite.

Direct Access to Collaborations
Collaborate in a meaningful way in real time as situations arise.

Location Tracking
Track mobile sensors (planes, ships, vechicles, etc.) with real-time location tracking.

Web Processing Services
Provides a wizard-like interface to create new products by chaining geospatial services on demand including generation of GeoPackages.