WES Portal Components - WES
WES Portal - Components
WES Portal is composed of several different components.
WES Collaboration Tools

Linked to WES
WES Collaboration tools are components of WES Portal and are linked to WES Portfolios so that users can conduct discussions or assign tasks that are directly related to some situation or event. For example, a portfolio that has information and content regarding marine weather may have a discussion associated with current ice conditions and how they may affect offshore drilling operations. The screen capture to the left illustrates the portlets/apps that are provided in support of WES Portal.
​​​​​​​
WES Portal can also provide linkages to other portals such as Portal for ArcGIS.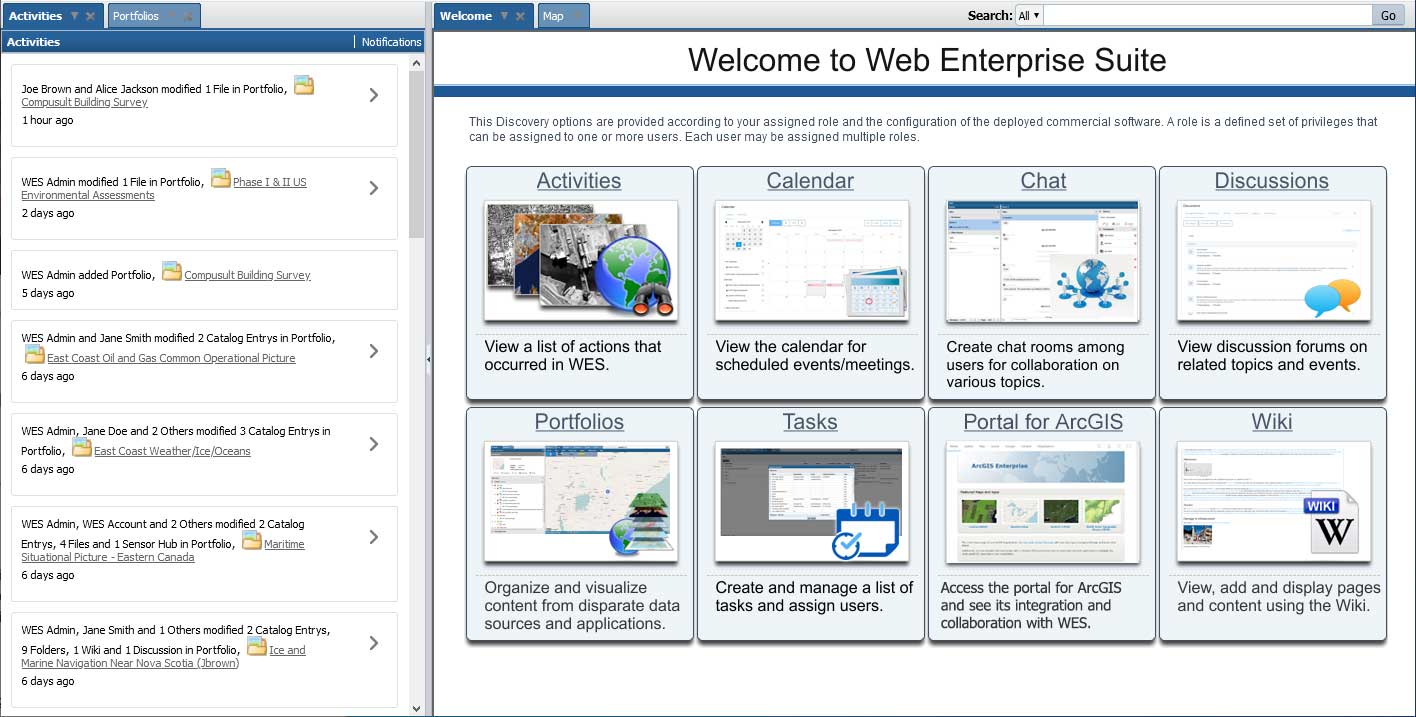 Activities Portlet

Track User Activities
The activities portlet provides a summary of recent activities that have occurred regarding updates to portfolios and collaborations.

​​​​​​​There are two actions:
- Expand on notifications to obtain additional information.
- Subscribe to be notified on actions you are interested in.
​​​​​​​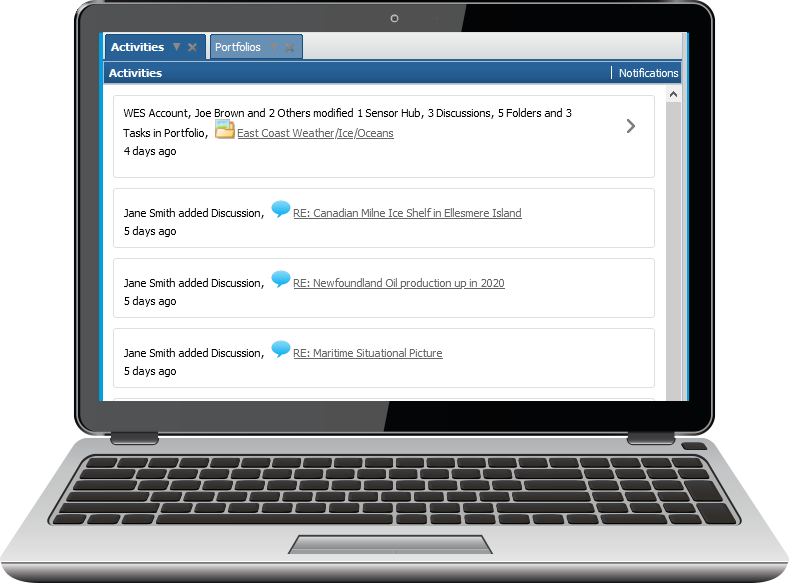 ---
Calendar Portlet

Schedule Meetings/Events

​​​​

The Calendar portlet is provided using out-of-the box functionality that has been integrated into the WES infrastructure. Functions are the same as similar calendars like Microsoft Exchange or Google Calendar. The calendar allows users and organizations to create, track, share, and manage events. User, can create as many calendars as needed. Administrators are able to manage the scheduling of resources.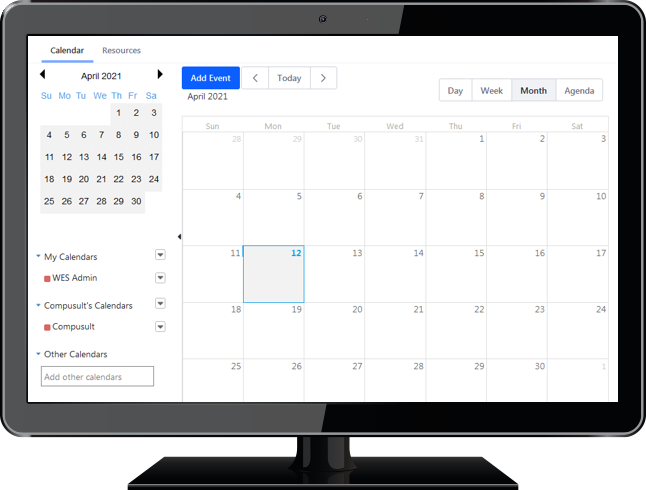 ---
Discussion Portlet

Create a Forum for Discussions
A discussion board (known also by various other names such as discussion group, discussion forum, message board, and online forum) is a general term for any online "bulletin board" where users can leave messages and receive message responses from other users. When a discussion is created, it is actually creating or participating in a thread. These threads are then associated to a Portfolio where the discussion is directly related to the mission, event or incident of interest. The Discussion portlet offers many configuration options that are straightforward to use.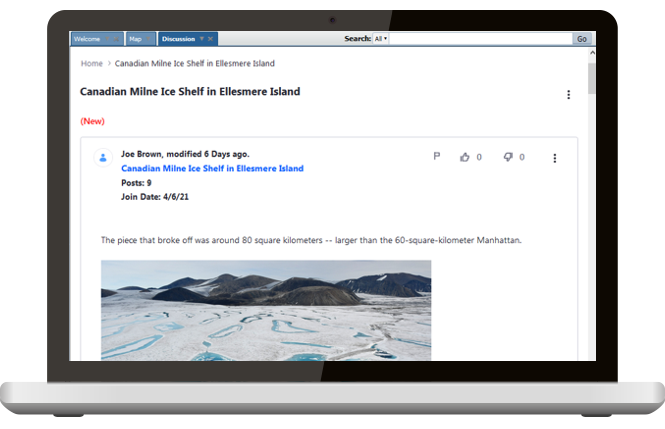 ---
Wiki Portlet

Build Your Own Wiki Information
The Wiki portlet is a full-featured, state-of-the-art wiki application that allows users to collaboratively build a repository of information. There are, of course, many implementations of this idea, the most famous of which is Wikipedia. A wiki application allows users to create and edit documents and link them to each other. To accomplish this, a special form of mark-up is used which is sometimes called wikitext. This Wiki portlet supports WikiCreole as its syntax. This syntax is a best-of-breed wiki syntax and should be familiar to users of other wikis. For every wiki there is a default page, called FrontPage, created and added to your wiki.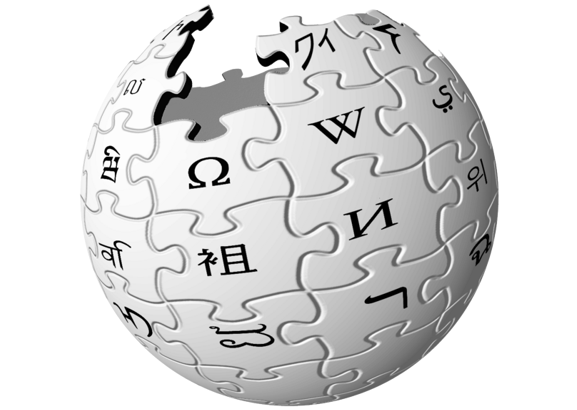 Chat Portlet

Instant Messaging at Your Fingertips
The Chat portlet provides a convenient way of allowing users to send each other instant messages when they are logged into the system. It appears as a bar at the bottom of every page, showing who is logged on, their statuses, and any chats the logged-in user has open. The Chat portlet is very simple to use. You can choose whether or not to show that you are online, and whether or not to play a sound if someone sends you a message while you have the window or tab in the background. The Chat portlet displays the number of users who are online.
Request Live Demo >>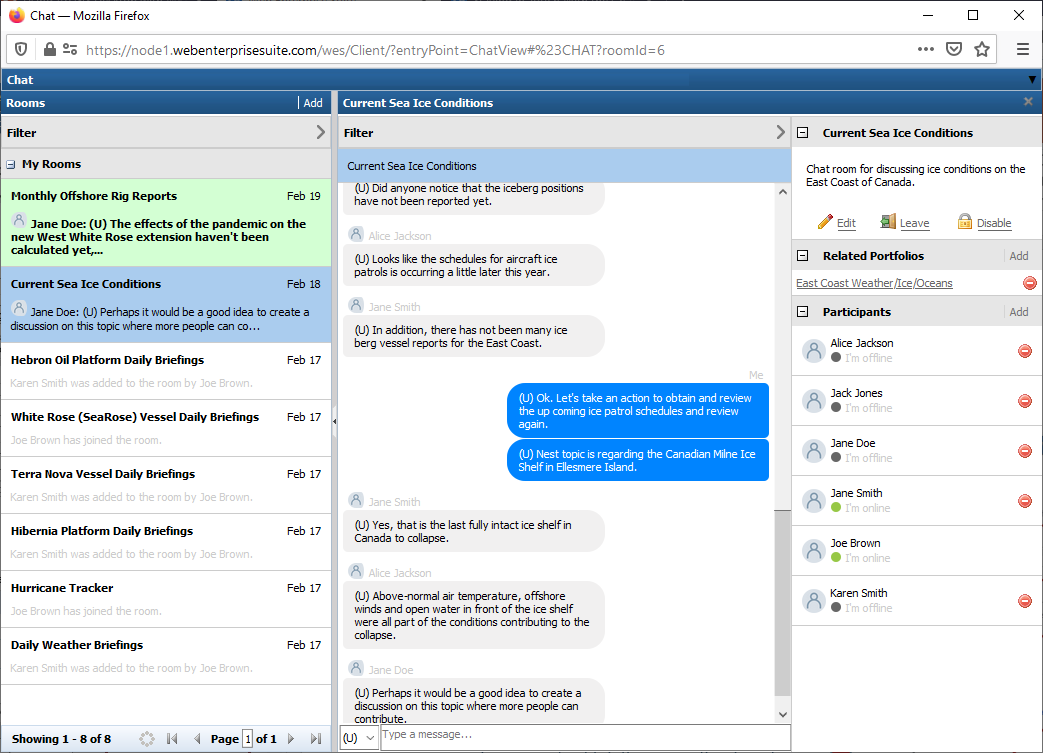 Task Portlet

Track and Assign User Tasks
The Tasks portlet provides a convenient way of assigning tasks to be conducted in support of a mission, event or incident, as provided below.
- Actions are associated with any given task.
- Each task has a unique identifier and description.
- An option is provided to assign a classification, if necessary, to a task.
- A start and finish may be assigned to track the timeline associated with conducting a task.
- Assignees can assign a percentage complete regarding the status of the task.
- Each task has a status associated with it.
- Each task has a priority.
- One or more resources can be assigned to a task to assist with execution and completion.